Block Sliding Game

This block sliding puzzle game at times appears impossible. Your aim is to free the key stuck inside a chamber and you have to find the right combination of moves to get it to the entrance and freedom! Sometimes the key itself will have to be moved in order for the blocks around it to be manipulated and those blocks can only move up and down or left and right. Don't give up, it can be done. We were stuck at first then saw a walkthrough on Youtube and slowly got the hang of it. You will too. (Hint, unlike some of our other block slidng games, you don't have to get 'behind' the key to slide it!) Now feel the force and free the key!

There are different control options depending on the type of device you are playing with so check in-screen for details. After you play this block sliding puzzle game, why not check out our other free online games? If you enjoy this type of strategy game, why not try our daily Sokoban game, one of a number of puzzles that update daily that you can play by clicking on the 'Play Daily Games' link below or here.
---
Daily Sokoban Game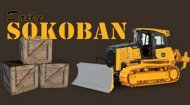 Play our free online daily Sokoban game and push the boxes around onto their goals. A new Sokoban puzzle everyday!
---
---
Avoider



We like this online game. It seems simple enough, just jump and avoid the moving platforms. Oh, if it was only that simple... (Hint; it isn't!)
---
---