Plumber Puzzle Game

This plumber game is one of our favourite puzzle games and, as you'd guess, gets more difficult as you progress through the levels. Firstly check out where the water tap is and the water outlet, then rotate the plumbing pipes until the water has a clean path out. When you achieve that, the water will start flowing automatically. You don't have to use each and every water pipe, just the ones required. Keep an eye out for the rising water bar on the right of your screen which acts as a timer. Later in the game, as well as rotating the plumbing, you have the option of switching the pipes. Good luck Mr Plumber!

There are different control options depending on the type of device you are playing with so check in-screen for details. After you play this plumber puzzle game, why not check out our other free online games? If you enjoy this type of strategy game, why not try our daily Sokoban game, one of a number of puzzles that update daily that you can play by clicking on the 'Play Daily Games' link below or here.
---
Daily Sokoban Game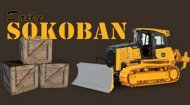 Play our free online daily Sokoban game and push the boxes around onto their goals. A new Sokoban puzzle everyday!
---
---
Main Power



One of our favourite online puzzles. Rotate the grid squares until they all join up into a connected network, then switch on the elecricity!
---
---