Daily Word Search Game

In another of our daily games, and they really are daily (come back tomorow and check for yourself!), the aim is to find the daily words provided on the left of the screen. The words can be found horizontally, vertically or diagonally. Just to make this daily word search came a tad more challenging, the words can also be top to bottom, right to left or, if diagonally, in any of the four available directions and you can choose teh size of the word grid to make the puzzle even more of a challenge. The instructions for play vary depending on what device you are using, so check in-screen for details.

After you've played this word search game, why not check out and play our other daily online games? Many of our games refresh everyday and we have a range of daily puzzles and games for you to enjoy. Check out our others by clicking on the 'Play Daily Games' link below or here.
---
Free Daily Crossword



Play our free online daily crossword puzzle to test your wordsmith skills and help boost your memory and concentration. Relax and enjoy a little break away from 'the real world' everyday at Purely Games!
---
---
Daily Maze Challenge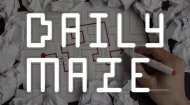 A daily maze challenge for you to undertake. Simply select your level then play the maze and see if you can complete it by joining the two dots.
---
---