Deep Sea Diving Game

This online deep sea diving game isn't exactly taxing but it's still a bit of fun. You are a deep sea diver, which is kinda obvious as, if you were say a tractor, this game really wouldn't work on any level. Anyhow, take a dive into the ocean and see how deep you can go while collecting coins and other treasures while avoiding underwater dangers. To extend your life, you'll come across air bubbles during your dive so make the most of them. Enjoy the dive and keep your eye on the oxygen supply at the top of the game screen. Oh, and watch out for the jellyfish. If you've ever been stung by one in real life you'll know why you shouldn't go near them!

There are different control options depending on the type of device you are playing with so check in-screen for details. After you play this online deep sea diving game, why not check out our other free online games? If you enjoy this type of arcade game, why not try our Angry Sharks game or take your submarine diving for a deep sea treasure hunt in 'The Immersion'. We also have a number of puzzle games that update daily that you can play by clicking on the 'Play Daily Games' link below or here.
---
Angry Sharks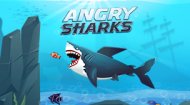 Gobble up other fish in the ocean and grow big enough to take you to the next level avoiding dangerous objects in the deep sea.
---
---
The Immersion



Manoeuvre your little sub down a fissure in the ocean to the seabed to retrieve some lost treasure in this addicting submarine diving game.
---
---