Parking Lot Game

This is an addictive little puzzle game. Your car is parked and you have to get it out of the car parking lot but its exit is blocked by others who have parked badly. The other vehicles can only move up or down and can't be turned so you have to work out which ones to move to get your white car with its red stripey roof out. To play this car parking lot game, move the other vehicles up or down, or sideways. After the first few levels it becomes more complicated with some cars and vans having to be moved more than once to allow your car out. When it's ready to be driven out it's headlamps will come on.

There are different control options depending on the type of device you are playing with so check in-screen for details. After you play this online car parking lot game, why not check out our other free online games? If you enjoy this type of puzzle game, why not try our Jigaw Palace shapes game or our fun Sokoban, one of a number of puzzles that update daily that you can play by clicking on the 'Play Daily Games' link below or here.
---
Daily Sokoban Game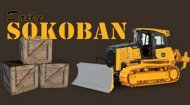 Play our free online daily Sokoban game and push the boxes around onto their goals. A new Sokoban puzzle everyday!
---
---
Jigsaw Palace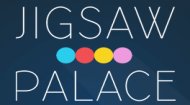 This online shapes game is an intriguing puzzle and takes place over thirty levels of increasing difficulty. The concept is pretty straightforward. You are presented with a grid and a number of shapes which have to fit together within the grid.
---
---