Soldier Combat Game

This soldier combat game for is quite cool, although a bit limiting at first until you earn enough to deploy better soldiers with upgraded weapons. Stroll through each level collecting keys and money whilst avoiding pits and other traps. There are nine levels to complete and you are advised of your mission for each level at the beginning. Good luck soldier, your country expects the best from you. Now go into combat!

There are different control options depending on the type of device you are playing with so check in-screen for details. After you play this online soldier combat game, why not check out our other free online games? If you enjoy this type of arcade game, why not try our Ultimate Boxing game or our Aliens Attack! game. We also have a number of other puzzle games that update daily that you can play by clicking on the 'Play Daily Games' link below or here.
---
Ultimate Boxing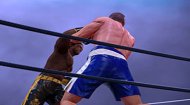 Step into the ring and take on your opponent in this ultimate boxing sports game with great graphics and sound effects.
---
---
Aliens Attack!



You're an American mid-westerner and just don't like anything alien! Doesn't matter if those aliens are from Mexico or Mars, you're gonna shoot them down whether they come in peace or not.
---
---