Treasure Hunt Game

Okay, we put our hands up. This online treasure hunting game is right up our street. You're a gold miner in search of treasure and have to dig an underground tunnel to find it. It's a relatively easy game to play well, at least to start with. Firstly, identify where the treasure chest is on your screen, then click or tap on the pieces of tunnel to rotate them to create a single tunnel between you and the treasure chest. As ever with these puzzle games, it starts off easy enough but then becomes a really addicting mind boggler. Enjoy the hunt!

There are different control options depending on the type of device you are playing with so check in-screen for details. After you play this online treasure hunt game, why not check out our other free online games? If you enjoy this type of puzzle game, why not try our Tap My Water game or our daily Sokoban game, one of a number of our puzzle games that update daily that you can play by clicking on the 'Play Daily Games' link below or here.
---
Tap My Water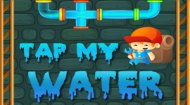 One of our favourite online puzzle games. Connect up the plumbing against the clock so the water runs from the tap to its outlet.
---
---
Daily Sokoban Game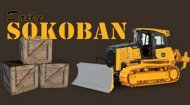 Play our free online daily Sokoban game and push the boxes around onto their goals. A new Sokoban puzzle everyday!
---
---