Mining Escape Game

You're a miner stuck down a mine, fortunately with no water sweeping in, and have to escape by jumping up through the levels. Unfortunately there are some poisonous slugs and other nasties down there with you which must be avoided at all costs or you're not going to make it out alive. This mining game appears quite easy but it's really a matter of timing. Tap once to jump and a double tap to jump twice. Just to make things a bit easier a double jump will take the miner up a level whilst a single tap will make the miner jump over the creepy crawly on the same level.

There are different control options depending on the type of device you are playing with so check in-screen for details. After you play this online mining game, why not check out our other free online games? If you enjoy this type of arcade game, why not try our Gold Miner game or try and escape from our daily maze puzzle. We also have a number of other puzzle games that update daily that you can play by clicking on the 'Play Daily Games' link below or here.
---
Gold Miner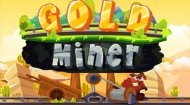 Play our free online Gold Miner game and mine gold and other treasure out of the earth by releasing your grabber at the right moment.
---
---
Daily Maze Challenge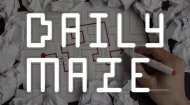 A daily maze challenge for you to undertake. Simply select your level then play the maze and see if you can complete it by joining the two dots.
---
---