Online Pool Game

It's kinda hard to recapture the real fun of playing pool online however this pool billiards game makes a good attempt. Try and pocket all of the coloured pool balls first and the black 8-ball at the end of the game to finish. If you can pocket the balls in order from high to low, you can earn extra points. Line up your cue by clicking or tapping on the white cue ball, then set your power and hit. As with most online games, it will take a few attempts to master the situation but this is a pretty cool pool game.

There are different control options depending on the type of device you are playing with so check in-screen for details. After you've played this online pool game why not check out our other free classic and traditional games (click on the 'back' button below) or our puzzles that update daily that you can play by clicking on the 'Play Daily Games' link below or here. You might also enjoy our other traditional pub games including darts and table football, both below.
---
Table Football



An online take of the traditional table football game. You know the rules, swing the bars with your football players on and try and score a goal!
---
---
Traditional Darts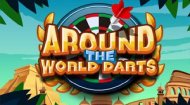 First known as a military pastime during the English medieval era in the fourteenth century, this is an updated, online version of the traditional darts game.
---
---