Shopping Hidden Objects Game

In this shopping game you need to find hidden objects in an antique shop, magic shop and garden shop at different levels. It's slightly more complicated than other hidden objects games because you are not shown a picture of the item you are looking for but, instead, given it's name such as fork or perfume. You can do it though! Oh, and it's against the clock.

There are different control options depending on the type of device you are playing with so check in-screen for details. After you play this online shopping hidden objects game, why not check out our other free hidden objects games (click on the 'back' button below) or our puzzles that update daily that you can play by clicking on the 'Play Daily Games' link below or here.
---
Find These Guys!



We reckon this is our hardest hidden objects game as, instead of looking for different shaped images, you have to find the head and shoulders of different characters, thus the name of the game, 'Find These Guys'.
---
---
Village Jaunt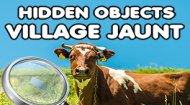 In this Village Jaunt game you need to find a number of hidden objects in a rural village setting.
---
---