Snakes and Ladders Game

This is a decent HTML5 version of Snakes and Ladders that you can play against a friend, your phone or computer or anyone online in the global community. There are two game modes, classic Snakes and Ladders with um, ladders to go up if you land on a lucky square and snakes to take you down, and another version with slides instead of snakes. Up to six people can play against each other or you can just play the game against your mobile or computer. As with most games, roll a six and you can an extra throw.

There are different control options depending on the type of device you are playing with so check in-screen for details. After you play this online snakes and ladders game, why not check out our other free online games? If you enjoy this type of board game, why not try our Ludo or Othello games. We also have a number of puzzles that update daily that you can play by clicking on the 'Play Daily Games' link below or here.
---
Othello



Othello is one of our favourite board games, a classic online strategy game to play against the computer.
---
---
Ludo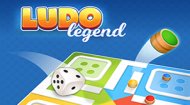 Play our free online Ludo board game, Ludo Legend, against the computer or friends.
---
---