Join the Dots Game

This free online join the dots game is very simple but also great fun. Simply play against the computer to join up the dots and create as many squares are you can, the more boxes you create by joining up the dots, the more points you get. To play, take turns with the computer to draw a line to connect two dots either horizontally or vertically. If the player makes a line that completes a box they score a point and takes another turn. If another box cannot be completed that time, your computer opponent gets to try and join the dots and so on. Once the grid is completed, the player with the most joined up and coloured boxes wins the game. Seems simple? Just give it a try and find out for yourself!

After you play this join the dots game check out our other traditional and classic games for kids. We've got some of the best online as well as a selection of online puzzle games that update every day.
---
Daily Maze Challenge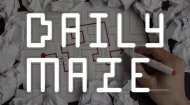 A daily maze challenge for you to undertake. Simply select your level then play the maze and see if you can complete it by joining the two dots.
---
---
Buzzer Game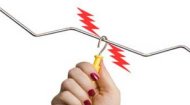 Based on the traditional children's game, attempt to guide the metal buzzer around another wire without the two wires touching.
---
---