Stack the Crates Game

This stack the crates game is quite cool and takes place over a number of levels that become unlocked as you succeed. The aim is to safely land the crate on the shelf and collect as many coins as you can. The first level will trick you into thinking the game is very easy and you've probably already tried level two before scrolling down here to see how's it possible. The trick is that you don't just remove one obstacle, but more than one and as quickly as you can because the moment you remove one object, the crate will start to fall. Also remember the crate can land on a coin which can also force it over the edge of the shelf. It gets increasingly harder but fortunately you don't need to go back to the beginning each time.

This stack the crates game uses different controls depending on the device you are playing on so check the in-screen instructions for more details however whatever device you are using, after you've played this online game, why not try out our daily puzzles and games? Check them out by clicking on the 'Play Daily Games' link below or here.
---
Daily Sokoban Game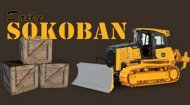 Play our free online daily Sokoban game and push the crates around onto their goals. A new Sokoban crates puzzle everyday!
---
---
Construction Weights



You'll come to love Construction Weights, a great balancing game. Simply make the total weight on both beams the same by 'growing' the construction balls..
---
---