Tic Tac Toe Game

Tic Tac Toe or Noughts and Crosses is one of our classic free online kids games but can be enjoyed by game players of all ages. It's the most simplest of concepts - just try and get three noughts or crosses in a row. To make it a bit harder in this online version, you take it in turns to start the game and don't just keep your eye on where you want to position your next move, keep an eye on where your online opponent might make theirs or tragedy could be snatched from the jaws of victory. Sure, it's not exactly a classic shooting game with dynamic scrolling graphics that'll have you on the edge of your seat, but there's something deeply satisfying about beating the computer at any game with a concept as simple as Tic Tac Toe.

Some suggest the game was played by the ancient Egyptians, which may be true, however historical records suggest its origin flowed from the Romans who called it 'terni lapilli' (three pebbles at a time). After you play this Tic Tac Toe game, check out our other traditional and classic games for kids. We've got some of the best online as well as a selection of online puzzle games that update every day.
---
Daily Maze Challenge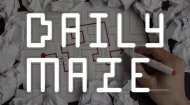 A daily maze challenge for you to undertake. Simply select your level then play the maze and see if you can complete it by joining the two dots.
---
---
Connect 4



Play the old favourite game Connect 4 and win, Simple as that! A great internet version of a classic game with simple rules, but with complex strategies!
---
---